Labels and signs that last.
The LabelTac 4 thermal transfer printer allows you to quickly and easily create professional labels and signs for your facility from any PC.

Design your own 100% custom labels, or start with any of our included pre-made templates & symbols.
Features
Create 1/2" to 4" tall indoor/outdoor labels & signs
Easy connection to any PC via USB 2.0 or ethernet
300 DPI print resolution
Lifetime full warranty
Unlimited free lifetime support
What's in the box
LabelTac 4 Thermal Transfer Printer
Install CD
Setup Guide & Literature
USB Cable
Power Cable
1 Free Black Print Ribbon
Industrial Templates & Symbols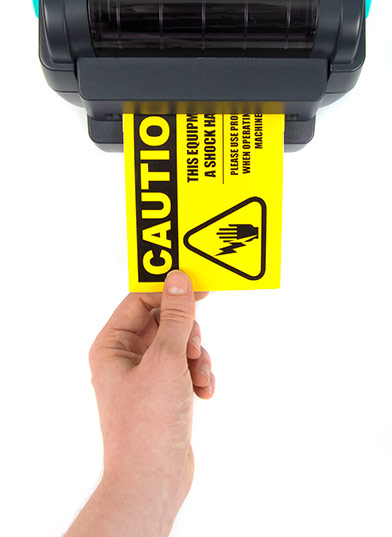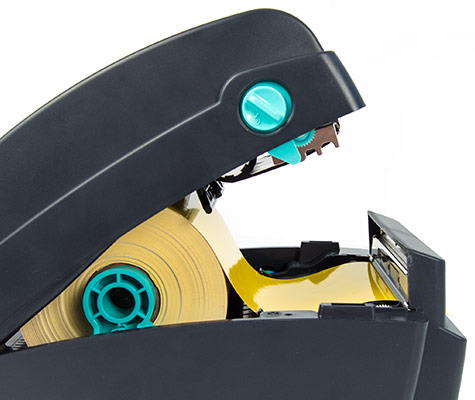 Professional results.
Need safety signs for your dangerous equipment? Done. Need arc flash labels? Done. Labels for your tool drawers? No problem.
Create the signage you require, on demand, with full control of the design. No more generic labels, no more huge label catalogs to sort through, and best of all- no more waiting days for labels to show up.
Labels and signs printed with LabelTac are designed to last years, even in tough industrial or outdoor applications.

LabelTac 4:
Product Video
Easy to use.
LabelTac printers connect to any PC in your facility, making label design easier than ever.
With LabelTac, you can print out of a wide range of software including Microsoft Word and Adobe Photoshop, as well as from many specialty label generation programs (such as those used in Arc Flash analysis).
Simply design the label on-screen to your specifications, and print! What you see on screen is how it will show up on your label. And once you are satisfied, you can always save the template on your hard drive for later use. We even include hundreds of label templates to get you started.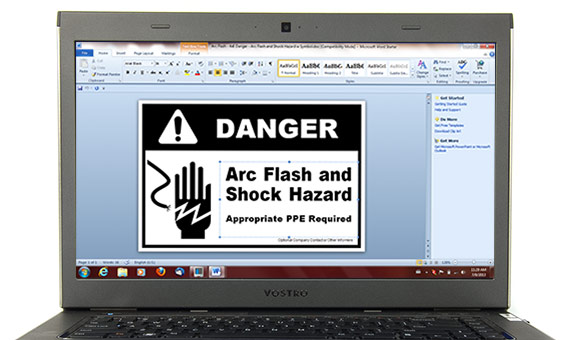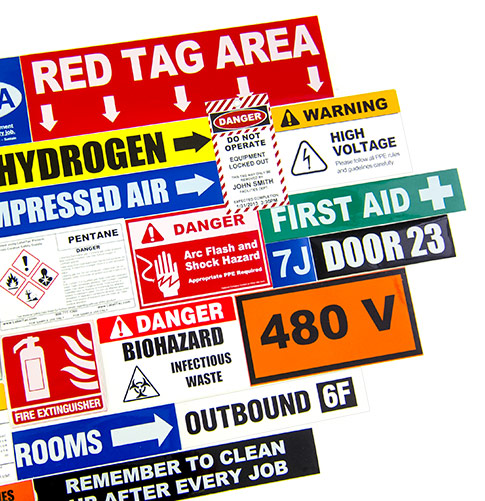 Easy on the budget.
LabelTac labels cost a fraction of what it costs to purchase pre-printed labels, or to print labels from old or outdated labeling systems.
On average, LabelTac customers save between 50-80% on their costs for labeling versus using other methods.
Printed with LabelTac 4
4"x6" label
$0.71
Ordered from safety catalog
4"x6" label
$3.30
Printed with other printer
4"x6" label
$1.60

Lifetime Warranty
All LabelTac printers include a full warranty, which covers everything including the print head. If you have any problems, we've got your back.
Learn more

Free Shipping
Every order from LabelTac.com to the lower 48 US states includes free shipping on all items including printers, supplies and accessories.

Lifetime Support
We're here to help! We offer free unlimited customer support on your LabelTac printer for life via phone, email, or live chat.

Supply Resistance
LabelTac labels and signs are great for indoor and outdoor use and are resistant to water, chemicals, UV/sunlight, and smearing.

Supply Selection
We offer 18 standard color options in our premium vinyl and dozens of specialty supplies including die-cut labels, reflective and glow materials, and more.

Rental Program
Need a label printer for a limited time or just for a project or two? Check out our great LabelTac rental program.
Learn more

Label Guarantee
LabelTac labels are highly durable, and will last years, even outdoors. If your labels fail within 5 years, we will send you a roll of the same supply to replace them.

Quality Management
LabelTac printers are thoroughly tested during manufacturing, as well as right before shipping. We want to be sure you get a printer that works perfect from day one.
LabelTac 4 Support | LabelTac 4 Supplies