Frequently Bought Together
"LabelTac® 4 Pro Starter Bundle"
LabelTac® 4 Pro printer + 7 rolls of Indoor/Outdoor Label Supply + 2 Print Ribbons
Product Overview
With a LabelTac® 4 Pro, you can print thousands of labels per day. This printer's upgraded print head, motor, and cutter allow it to print high volumes of labels without slowing down. That makes this printer model perfect for large facilities that need to print lots of labels. Labels printed with the LabelTac® 4 Pro range in width from ½" to 4" and are designed for both indoor and outdoor use. This printer's larger ribbon capacity also means you won't need to reload frequently, so you'll experience less downtime. Easily connect the printer to your PC with USB and use the software of your choice to create your labels. To simplify the process even further, use the included label templates. The LabelTac® 4 Pro comes with a full lifetime warranty.
Compatible with supplies from ½" to 4"
Upgraded cutter
Upgraded motor
Upgraded print head
Larger ribbon capacity
Connect to any PC with USB 2.0
Optional Mac OS X Compatibility ($99.00 add-on). For details, call us at 1-866-777-1360
Specifications
Name
Item Name
Color Capability
Single color
Max Label Width
4 in
Power Supply
External universal switching power supply
Input: AC 100-240V, 2.5A, 50-60 Hz
Output: DC 24V 3.75A, 90W Max
Print Speed
5 in/sec
Label Types
Continuous, die-cut, black mark
Dimensions
213 mm (W) x 188 mm (H) x 314 mm (D)
8.39" (W) x 7.40" (H) x 12.36" (D))
Type
Compact desktop
Print Resolution
300 dpi
Memory
8MB RAM, 4MB Flash
Max Label Length
40 in
Display
Single Power/Status LED
Warranty
Full Lifetime
Weight
6.17 lbs (2.8kg)
Includes
Print software & drivers, label templates, industrial symbol library, cables, user guide
QTY/UOM
1/Each
Support
Full LIFETIME Warranty
Included FREE with all LabelTac® printers
Warranty features:
True lifetime protection, transferable to any new owners
Unlimited support by phone, email or live chat
Covers all parts and labor, including the print head
Covers all shipping costs
Free optional loaner printer to minimize any downtime
Free installation support
Additional Benefits
Same day shipping
We offer fast, same day shipping on most orders to almost anywhere in the world.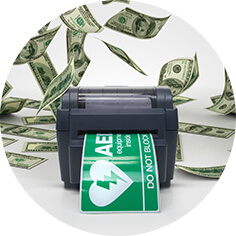 Huge savings
Save up to 75% vs. using other printers or methods. Over time, those savings really add up.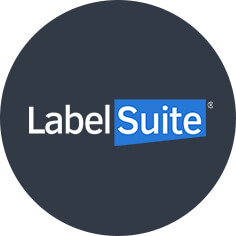 Free labeling software
Lay out labels on your computer using the included LabelSuite™ software. Customize a template or design from scratch.