Overview
Use the LabelTac® 9 to create banners, labels, and signs 4" to 9" wide. This industrial label printer makes it possible for you to complete large-format printing jobs, so you can create large signs that are legible even from a distance. The LabelTac® 9 is simple to use thanks to a clear media view window and LCD display. Its tough metal chassis also makes the printer dependable and durable. You can connect it to any PC or Mac using the built-in ethernet or USB to get started. Perfect for tackling large-scale printing jobs of up to 2500 labels per day, the LabelTac® 9 comes with an unbeatable lifetime warranty.
Compatible with supplies from 4" to 9"
Prints up to 2500 labels per day
Side media view window
Able to print large format labels
Features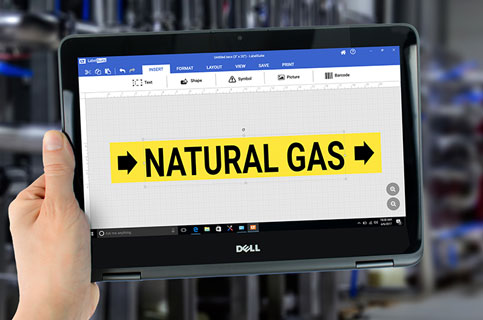 Includes intuitive software for designing signs and labels
Every LabelTac® printer comes with LabelSuite™ software, which helps you create custom signage in minutes. LabelSuite™ was designed to be the easiest labeling software available and contains an extensive library of pre-made templates. It sets a new standard for simplicity and functionality.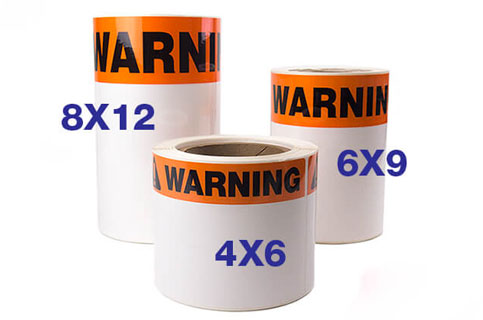 Large-format labels
Bigger signs are more noticeable. With LabelTac® 9, you'll be able to create the large labels your facility needs to ensure your messaging is easily understood.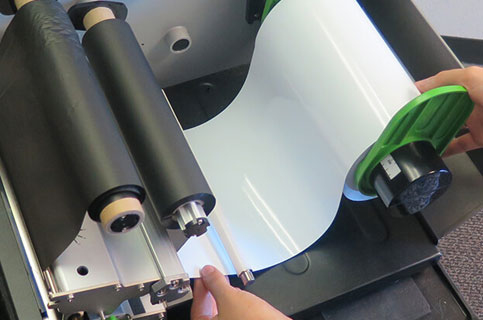 Versatile
The LabelTac® 9 model was designed to make it easy to replace or remove ribbons and label supply. This means you can reload quickly and get back to completing your projects without worrying about downtime.
Specifications
Name
Item Name
Color Capability
Single Color
Max Label Width
9 in
Power Supply
Internal universal switching power supply
Input: AC 100-240V, 3.0A, 50-60Hz
Output: DC 24V, 8.33A, 200W Max
Print Speed
Up to 4 in/sec
Label Types
Continuous, die-cut, black mark
Dimensions
440 mm (W) x 336 mm (H) x 514 mm (D)
17.32 in (W) x 13.23 in (H) x 20.24 in (D)
Type
Large Format
| Name | Item Name |
| --- | --- |
| Print Resolution | 300 dpi |
| Memory | 256MB RAM, 512MB Flash |
| Max Label Length | 200 in (16.6') |
| Display | Full-Color Touchscreen |
| Warranty | Full Lifetime |
| Weight | 52.25 lbs (23.7kg) |
| Includes | Print software & drivers, label templates, industrial symbol library, cables, user guide |
| QTY/UOM | 1/Each |
Applications
Print Labels for a Variety of Applications
Warranty
All LabelTac® printers include a FULL LIFETIME transferable warranty on all parts, labor, and related costs. Creative Safety Supply will repair any printer that is defective due to materials or workmanship, standard wear and tear, or mechanical malfunction. We provide this industry-leading warranty so you can use your printer as often as you need to without worrying about equipment problems. It̥s our goal to make owning a LabelTac® printer easy and worry free.
Printer Software
FREE with all LabelTac® purchases
Dependable and powerful yet simple, LabelSuite™ is capable of turning you into an expert designer quickly and easily. The software collaborates with LabelTac® printers to make compliant and clear labels for your workspace. Some of LabelSuite™'s features include:
Over 750 symbols, arrows, and icons for industrial signs and labels
The same great technical support as LabelTac® printers
OSHA compliant headers with current standards
An extensive library of ready-to-print templates
Automatic label length mode
LabelSuite™ Design and Print Software
Customer Photos
How It Works
Thermal transfer printers work by using heat to transfer solid ink from the ribbon onto the label supply. As the ribbon passes through the print head and platen, the ink is bonded to the label supply (or other material) with heat and pressure, creating a permanent print.
The use of heat to activate pigment is what makes thermal transfer printers unique from other printers. Since there are not many moving parts, thermal transfer printers are easier to maintain and tend to last longer. The labels they create are better able to withstand heat, weather, chemicals, water, and other harsh conditions.
Downloads
Free Samples
Try LabelTac® in your facility! See just how top-notch these labels are up close and personal. We're happy to send you a variety of label samples to test out in your facility.
Proud to work with and support some of the world's greatest organizations
All logos are the trademarks of their respective companies. Use of logo or company name does not imply official sponsorship or endorsement.